July 15, 2014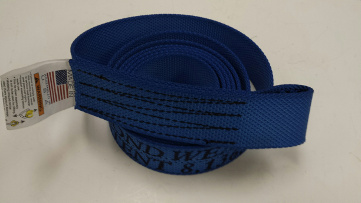 This is really popular with our fleets that run strap trucks. Lets you recycle your rubber tread grabs, swivel J hooks etc.
12 footer: $5.64
14 footer: $7.04 Made with new patented Diamond Weave webbing... resists nicking and abrasion! Please allow 3-4 day production time, as the shop is REALLY busy. This strap is only for use with double J swivel hooks... the bolt loop is not big enough to be used as a lasso strap. It's meant to be used with hardware from existing Cottrell straps.
June 23, 2014
Here is an interesting item we sold to a customer who was looking to create a new type of wheel strap tie-down secured to the rub rail on his trailer. The yellow strap has a loop through which a 2 inch strap can pass through. You could also unbolt a ratchet handle and bolt that loop right to the end of your ratchet if you wanted to!
May 30, 2014
A lot of new stuff going on lately-- seems like every time I turn around, I'm creating a new part number in the system for a custom strap. Every once in a while, we get a customer who starts using one of our existing straps in a new and interesting way. Case in point, the new RV and Trailer Wheel Strap that we just shipped to the Elkhart, IN warehouse. We discovered some folks hauling trailers were buying a custom version of one of our tow dolly straps and using it as a dual ratchet tie-down for their trailer-hauling business. Bette Lakeyoungberg and her son Brian were the folks who brought our attention to this. Anyway, to make a long story short (as my Uncle Charlie used to say), we went to the fabricator and took their intended use and came up with a new design that should work really well for trailer and RV transporters.
Read about the product here
, or click on the images below for some pics Bette took of her prototype.
This is what I like best about this business-- the collaboration between us and the customers and the engineers and fabricators to come up with new tie-down solutions. I think this is how it's supposed to work!
--Steve
P.S. We've got some of these straps in stock in Elkhart now.
Click the pic to see larger image.